Find an outline of our staff below
Please dial (03) 366-2857 and then the extension number listed below.
Manager
Robin Furley (ext. 2)
Office Manager
Donna-Marie Geddes (ext. 6)
Resource Nurse
Anna Fraser, RN (ext. 4)
Resource Nurse
Judy McKeown, RN (ext. 3)
Physiotherapist
On The Go Physio (ext. 1)
Exercise Group Leader
Kim Veenings
Funds Development Manager
Lynne Trowbridge (ext. 8)
Fundraising Assistant
Charlotte Ackroyd (ext. 9)
---
Click on the person's name below to send them an email.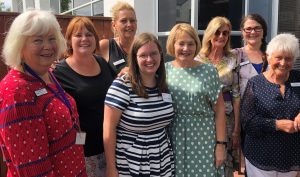 Robin, Anna, Donna-Marie, Charlotte, Judy, Lynne, Kim and Lesley